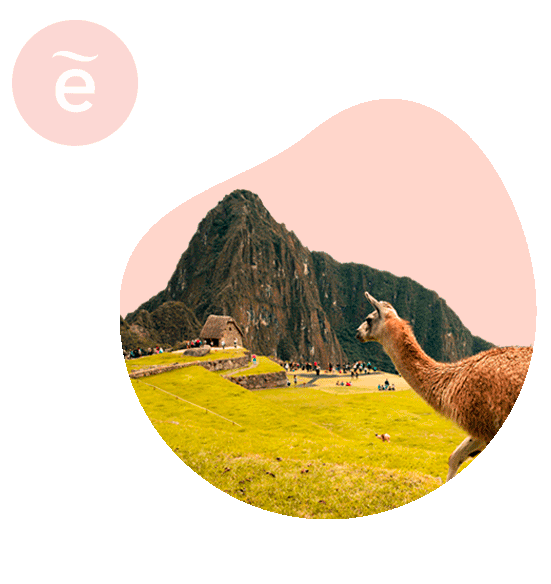 If, like us, you are dying to get to know other cultures… and one of your hobbies is learning everything about them… We are right there with you!
Learn with very up to date, dynamic and varied material… polls, videos, interactive excercises, songs, forums, glossaries, google docs, wikis…
Travel
Are you going to travel and wish to be able to communicate in Spanish without any problems?
Relations
Would you like to communicate better with a loved one but need to improve your language skills?
A passion for languages
If you find you want to learn even more about a culture the more you know about it… Take one more step toward understanding it and its language!
14
Spanish Semester Course A1.1 in Vienna
Spanish A1 Course for  Beginners in Vienna 2023 – For people with no previous knowledge.
Now is time to learn Spanish at central language school elebe. A Spanish course in a small group in Vienna maximum 8 people, optimal to learn better and speak more. This course is for people with no previous knowledge, i.e. absolute beginners. We already have the first registrations but there are still places available. It's best to register now.
The modern books with which we learn Spanish here at the school in Vienna are already there and waiting for you!…
Ich kann mich nur den anderen Kommentaren anschließen – ein Institut, dass es schafft hochmodern ausgestattet und nach Wissenschaft neuesten Erkenntnissen zu unterrichten und dabei total menschlich und bedürfnisorientiert ist. ich komme mit meinen Schulklassen und da wird am Vormittag ein eigenes Programm zum Schulbuch erstellt bei dem Spaß und Spiele nicht zu kurz kommen! Ganz super auch die spanischen Abende: kochen mit Spanisch lernen verknüpfen und lecker originale spanische Köstlichkeiten kochen und essen. große Empfehlung!!
Stefanie Pegritz – Spanisch Lehrerin in einem Gymnasium
Gymnasiumlehrerin
Gloria schafft es durch ihre beschwingte und charmante Art, den Unterricht stets witzig und originell zu halten.
Estefanía. Super Persönlichkeit! Ihre Art, jedem Schüler die Bedürfnisse zu erfüllen, ist sehr zu schätzen. Sehr kreativ mit den Spielen, sehr organisiert, eine sehr liebe Person, die auf jeden einzelnen schaut, dass wir wirklich zufrieden sind. Kennt sich super mit der interaktiven Tafel aus, was den Unterricht sehr kreativ und abwechslungsreich macht.
Meine Lehrerin ist zielstrebig und lässt nicht locker so dass alle etwas lernen.
Unverwechselbar in ihrem Unterricht und stets un chiste auf den Lippen. Librada ist als Lehrerin extrem routiniert, ohne jedoch den Unterricht zur Routine werden zu lassen. Man merkt einfach, dass sie für ihren Beruf eine große Liebe hat und sie versteht es, in ihren Studenten ein kleines spanisches Feuer zu entzünden 😉
Mit Gloria und Librada war es immer sehr lustig.
Die Professorinnen sind sehr enthusiastisch, lebendig und kreativ. Der Unterricht an sich vergeht sehr schnell, da wir viele verschiedene Aktivitäten wie Spiele, Tratschübungen, Videos anschauen, etc. haben. Außerdem werden wir dazu gefördert, viel zu reden, was sehr gut ist für die Übung. Ich kann nur sagen, dass ich gerne hingehe und es mir Spaß macht, Spanisch bei Ihnen zu lernen. Auch das Eingehen der persönlichen Bedürfnisse ist hier sehr zu schätzen.
Tolle Einstellung, sehr gut drauf, vermittelt Spaß beim Lernen mit Fatima.
En nuestra empresa, tenemos muchos clientes en países de habla hispana, por lo que buscamos a ELEBE para realizar un curso corporativo. Quedamos muy satisfechos, profesores capacitados y amables, material didáctico de buena calidad, que hace posible no solo aprender español, sino también aprender un poco de la cultura. Alex Bretas – Sotreq Group
Sotreq Group
Ich habe mich bei diesem Kurs sehr wohl und gut betreut gefühlt.
Español culinario con concurso de tapas: Excelente organización,  ingredientes de gran calidad, ideal para fomentar el trabajo de l@s alumn@s en equipo, diversión asegurada. Encarna Alcaraz, profesora de español en un instituto
profesora de instituto
Was mir besonders gut gefallen hat? Die kleinen Gruppen, das individuell abgestimmte Programm, die Trainerin, Interaktives Lernen, nette Runde, nette Lehrerinnen.
Was mir am besten gefallen hat? Für eine bestimmte Zeit fester Bestandteil der elebe-Familie gewesen zu sein! 😉 Besonders gut gefällt mir die sehr persönliche Führung des Instituts und das individuelle Eingehen auf die Bedürfnisse der Studenten.
Ich kann Elebe in jeder Hinsicht weiterempfehlen. Aus Teilnehmersicht spürt man, die familiäre Atmosphäre des Instituts und die aufrichtigen Bemühungen der Leiterin möglichst alle Wünsche zu erfüllen. Flexibilität und Lösungsorientierung sind hier gelebte Praxis!
Der Unterricht ist lebendig, modern und motiviert zum dranbleiben! Es wird möglichst von Anfang an Spanisch gesprochen, ohne, dass Erklärungen – im Notfall auf Deutsch – zu kurz kommen.
Auch aus der Perspektive des Organisators von Kursen für Mitarbeiter ist es eine Freude mit Elebe zusammenzuarbeiten. Versprechen werden gehalten und das Feedback der Mitarbeiter jeder Hierarchieebene war in jedem Fall positiv!
Claudia Rührl – Banco de Santander
Banco de Santander
Freue mich schon auf den nächsten Kurs. Es ist so nett bei euch!
Christine U.
Ich habe den Kurs sehr genossen und werde ihn weiterempfehlen! Das ist eine reizende Sprachschule!
Florian G.
Die Kurse mit euch haben mir Spaß gemacht und ich hoffe, dass es bei euch auch weiterhin so angenehme Gruppenzusammenstellungen geben wird. Estefanía, ohne Dich und Deine fantastische Unterrichtsmethodik hätte ich mir mit dem Kurs wohl viel schwerer getan. Du machst das toll!
Gerald G.
Previous
Next
Do you need further information?
The Spanish Academy in Vienna.
Enjoy learning: a different way of learning languages.