We are the Language School of Vienna specialized in teaching Spanish. We offer training aimed at immersion in the Spanish language and work through e-learning and the latest media resources in our school as well as in companies.
A different way of accessing Spanish, it is like a journey into the Spanish and Latin American cultures. A pioneer in the use of new media, digital whiteboards, a training platform… elebe is a family that you will enjoy being a part of. Get to know us!
Through the elebe method we offer you a different, individually-oriented and highly dynamic way of learning. It is a journey through the Spanish language of Spain and Latin America and their cultures, in a family-like environment and with a special closeness between the teaching staff and the students.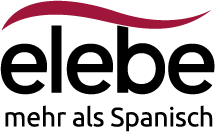 Do you live in Vienna and spend your summers in Spain?
Is your partner Spanish?
Are you interested in Spanish culture?
Are you studying and need to to improve your level of Spanish?
Do you need an oficial Spanish certificate?
Do you wish to improve your profesional standing?
Are you learning to teach Spanish?
If the answer to any of these questions is affirmative, let´s get to know each other!
Who are we?
We are a specialized school run by native Spanish speakers aimed at offering classes mainly in Spanish to people who wish to learn the language, improve their level or become a specialist.
How do we work?
By means of a personalized learning process and through a special method which allows our students to enjoy themselves while they learn, in a place in which they like to participate. A method which is fully adapted to a digital environment and the present circumstances.
9 reasons to get to know elebe
elebe is in a beautiful barrier-free building directly in front of the metro U6 station Währingerstrasse Volksoper.
We consider it essential to work in small groups (4 to 8 people) in order to guarantee successful learning.
Our teaching staff are native speakers from Spain or Latin America.
New: The semester-long courses are also available as Online Courses, including two monthly hours of classroom teaching, or virtually, through videoconferences combined with the learning platform.
E-Learning: A flexible and individualized design. It is possible to start at any time. Our courses count as educational leave.
Personal, individualized support is offered to each student.
We work with interactive digital whiteboards.
Scholarships for courses in Spain can be rewarded directly.
Tell us what you are looking for and we will create a perfect, tailor-made course for you.
The elebe method
We live in Spanish, we don´t just learn it
In Spanish from the start
Speaking in the new language from the first day onward is posible: Our objective is that you learn to think in Spanish so you can then speak it confidently and fluently.
Time is gold
In our classes we never do things that students could do better on their own.
Individualized attention
We work in very small groups in the classroom and online, so as to increase our capacity by reacting directly to our students. Flexibility and individual, tailor-made solutions are offered to each person.
Spanish for real life
We consider all skills important: comprehension, speaking, writing and interacting. We live in Spanish, we don´t just learn it. All courses are designed according to the common European language reference framework.
Enjoying the learning process at all levels
To have fun while learning and to learn while having fun is elebe´s motto. We create an environment of cultural immersion which takes you on a journey into the Spanish culture helping you become familiar with the language and everything around it.
Why should you try out elebe´s method?
We are totally up to date and would like you to be as well. It is never too late to learn something new!
We anticipate. We will teach you how to continue with your course online in case circumstances were to change and participating remotely were to become the best option for you.
We are specialized in offering online courses; we can change from classroom to teacher-led online courses and viceversa at any time.
As of October 2020 it will be possible to change to online learning or to atend a mixed course.
Discover elebe´s E-learning platform
Tutored online-learning
Your own online learning platform with the support of a native teacher.
Easy and dynamic You do not need special IT knowledge. We will teach you how it works.
At your pace You can start and end a course at any time.
Teaching material You will learn using a book which you will always be able to read after finishing the course.
Practice the language You will be able to reserve a seat in additional, small group conversation classes.
Learn with tapas and paella You can reserve your seat individually and participate in fun activities such as culinary Spanish with tapas or paella, or perhaps you would prefer Spanish combined with a salsa class and a caipiriña?
5 reasons to learn through elebe´s E-learning platform
1
EXCLUSIVE METHOD We combine the printed book (alway the most recent) with the learning platform.
2
YOUR OWN ONLINE MATERIAL elebe´s team is constantly being trained and their knowledge updated so they are always coming up with new content and activities.
3
TUTORED COURSES The teaching staff corrects excercises and gives students feedback.
4
ALL SKILLS Reading and listening comprehension as well as written and spoken expression are practiced through interactive excercises, listening to recordings, interactive virtual classrooms…
5
A VERY DYNAMIC PLATFORM Here you will find varied, updated and dynamic content… polls, videos, interactive excercises, songs, fórums, glossaries, google docs, wikis…
History
Es ist einfach mehr als Spanisch
a lot more than Spanish
elebe was founded in 2011 by Spanish Estefanía López Ballbé. It is recognized by the Ministry of Social Security and Generations under the regulation BGBL II Nr. 409/2002 as an institute for adult education in accordance with §1, Abs. 2 of the Federal Regulation.
Our international team works under the motto "language connects" and we put it into practice to share, not only the language, but also the lifestyles, cultures, and flavors of Spain and Latin America.
Over the years, language learning has become an important aspect of intercultural, travel and business work. There are 22 Spanish-speaking countries with a total of more than 400 million native Spanish speakers.
The variety of Spanish dialects and cultures is highlighted through our choice of faculty members, as they are from various parts of the Spanish-speaking world and have high academic backgrounds. Our students can experience all this variety first hand whilst having their individual learning needs and requirements met.
Online courses for the educational leave (Bildungskarenz)
Our online courses fulfill all the AMS requirements for continuing education within the educational leave
Scholarships in Spain
Every semester we raffle 10 scholarships for a Spanish course in Spain worth 510 euros among all the people enrolled in a Spanish course at elebe.
Private lessons
At elebe we offer tutoring and preparation classes for Matura both private and in small groups. Classes are designed based on the needs of each student.
Ich kann Elebe in jeder Hinsicht weiterempfehlen. Aus Teilnehmersicht spürt man, die familiäre Atmosphäre des Instituts und die aufrichtigen Bemühungen der Leiterin möglichst alle Wünsche zu erfüllen. Flexibilität und Lösungsorientierung sind hier gelebte Praxis! Der Unterricht ist lebendig, modern und motiviert zum dranbleiben! Es wird möglichst von Anfang an Spanisch gesprochen, ohne, dass Erklärungen – im Notfall auf Deutsch – zu kurz kommen. Auch aus der Perspektive des Organisators von Kursen für Mitarbeiter ist es eine Freude mit Elebe zusammenzuarbeiten. Versprechen werden gehalten und das Feedback der Mitarbeiter jeder Hierarchieebene war in jedem Fall positiv! Claudia Rührl – Banco de Santander
Banco de Santander
Unverwechselbar in ihrem Unterricht und stets un chiste auf den Lippen. Librada ist als Lehrerin extrem routiniert, ohne jedoch den Unterricht zur Routine werden zu lassen. Man merkt einfach, dass sie für ihren Beruf eine große Liebe hat und sie versteht es, in ihren Studenten ein kleines spanisches Feuer zu entzünden 😉
Ich habe mich bei diesem Kurs sehr wohl und gut betreut gefühlt.
Ich kann mich nur den anderen Kommentaren anschließen – ein Institut, dass es schafft hochmodern ausgestattet und nach Wissenschaft neuesten Erkenntnissen zu unterrichten und dabei total menschlich und bedürfnisorientiert ist. ich komme mit meinen Schulklassen und da wird am Vormittag ein eigenes Programm zum Schulbuch erstellt bei dem Spaß und Spiele nicht zu kurz kommen! Ganz super auch die spanischen Abende: kochen mit Spanisch lernen verknüpfen und lecker originale spanische Köstlichkeiten kochen und essen. große Empfehlung!!
Stefanie Pegritz – Spanisch Lehrerin in einem Gymnasium
Gymnasiumlehrerin
Tolle Einstellung, sehr gut drauf, vermittelt Spaß beim Lernen mit Fatima.
Die Kurse mit euch haben mir Spaß gemacht und ich hoffe, dass es bei euch auch weiterhin so angenehme Gruppenzusammenstellungen geben wird. Estefanía, ohne Dich und Deine fantastische Unterrichtsmethodik hätte ich mir mit dem Kurs wohl viel schwerer getan. Du machst das toll!
Gerald G.
Meine Lehrerin ist zielstrebig und lässt nicht locker so dass alle etwas lernen.
Was mir besonders gut gefallen hat? Die kleinen Gruppen, das individuell abgestimmte Programm, die Trainerin, Interaktives Lernen, nette Runde, nette Lehrerinnen.
Freue mich schon auf den nächsten Kurs. Es ist so nett bei euch!
Christine U.
Mit Gloria und Librada war es immer sehr lustig.
En nuestra empresa, tenemos muchos clientes en países de habla hispana, por lo que buscamos a ELEBE para realizar un curso corporativo. Quedamos muy satisfechos, profesores capacitados y amables, material didáctico de buena calidad, que hace posible no solo aprender español, sino también aprender un poco de la cultura. Alex Bretas – Sotreq Group
Sotreq Group
Die Professorinnen sind sehr enthusiastisch, lebendig und kreativ. Der Unterricht an sich vergeht sehr schnell, da wir viele verschiedene Aktivitäten wie Spiele, Tratschübungen, Videos anschauen, etc. haben. Außerdem werden wir dazu gefördert, viel zu reden, was sehr gut ist für die Übung. Ich kann nur sagen, dass ich gerne hingehe und es mir Spaß macht, Spanisch bei Ihnen zu lernen. Auch das Eingehen der persönlichen Bedürfnisse ist hier sehr zu schätzen.
Ich habe den Kurs sehr genossen und werde ihn weiterempfehlen! Das ist eine reizende Sprachschule!
Florian G.
Estefanía. Super Persönlichkeit! Ihre Art, jedem Schüler die Bedürfnisse zu erfüllen, ist sehr zu schätzen. Sehr kreativ mit den Spielen, sehr organisiert, eine sehr liebe Person, die auf jeden einzelnen schaut, dass wir wirklich zufrieden sind. Kennt sich super mit der interaktiven Tafel aus, was den Unterricht sehr kreativ und abwechslungsreich macht.
Gloria schafft es durch ihre beschwingte und charmante Art, den Unterricht stets witzig und originell zu halten.
Was mir am besten gefallen hat? Für eine bestimmte Zeit fester Bestandteil der elebe-Familie gewesen zu sein! 😉 Besonders gut gefällt mir die sehr persönliche Führung des Instituts und das individuelle Eingehen auf die Bedürfnisse der Studenten.
Español culinario con concurso de tapas: Excelente organización,  ingredientes de gran calidad, ideal para fomentar el trabajo de l@s alumn@s en equipo, diversión asegurada. Encarna Alcaraz, profesora de español en un instituto
profesora de instituto
Previous
Next
Our team
Our teachers are native speakers and know how to take advantage of and encourage the motivation of each student.
Management team
Teaching team