Did you know that in Vienna it is possible to receive financial subsidies for a course in elebe? The Vienna Employment Promotion Fund (WAFF-Wiener ArbeitnehmerInnen Förderungsfonds ), the labour market policy institution of the City of Vienna, takes care of this.
elebe, a recognised educational institution in Vienna
The general conditions are that you have to be registered with your main residence in Vienna and choose a school that is on the list of education providers recognised by WAFF. elebe has the quality seal of wien-cert and is therefore on this list! Regardless of whether you are employed or job-seeking, or even self-employed without employees, you may be eligible for this funding. The amount varies depending on your individual situation. You can find more information about the funding at Bildungskonto WAFF. Under elebe language courses you can choose your desired course.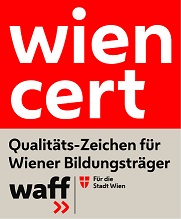 wien cert
Are you from another region of Austria? Ask your funding agency for more information.